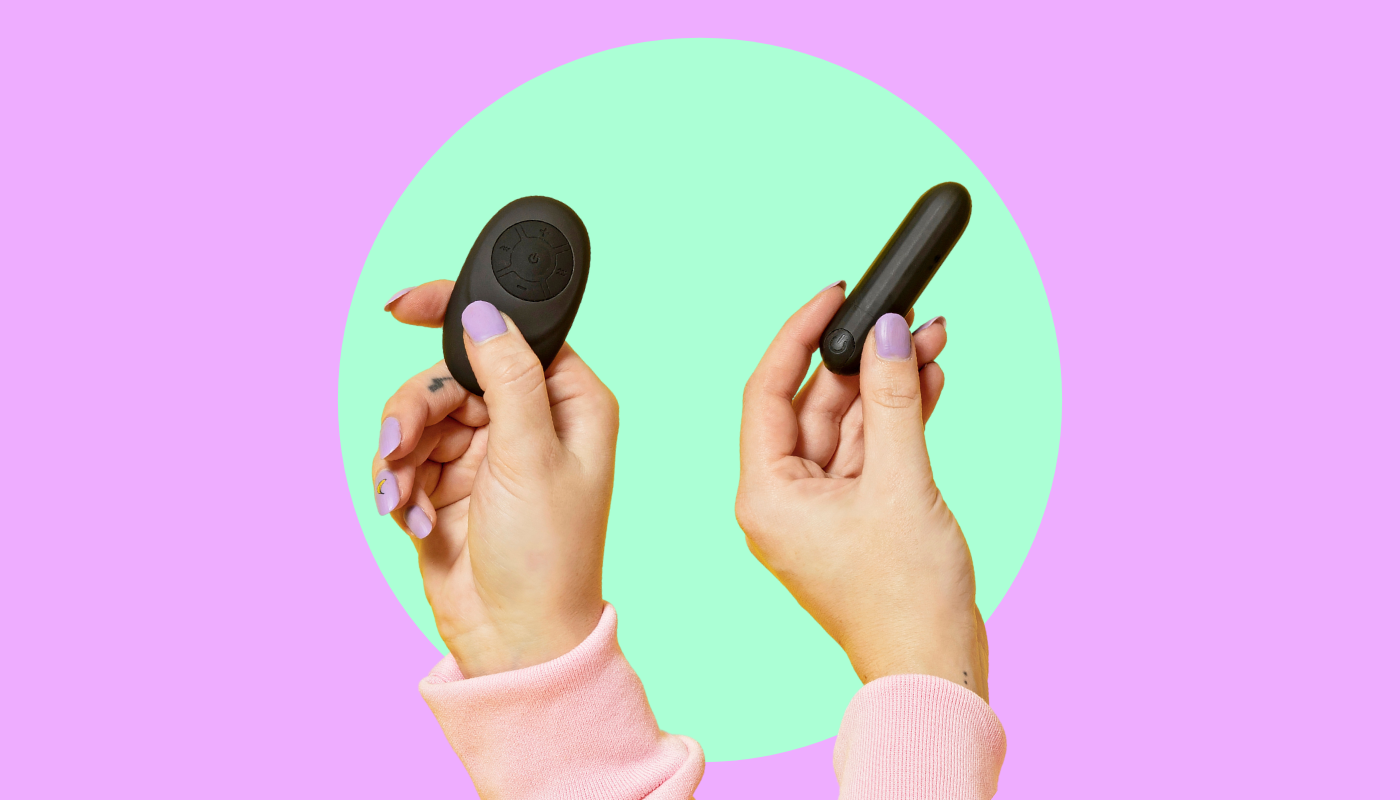 How to Vibe 101: The Cumander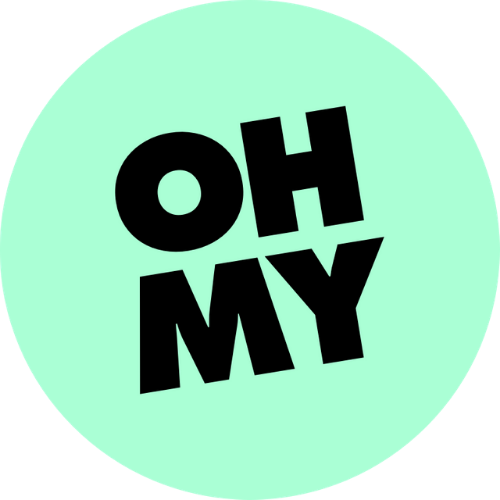 How to Vibe 101 is our 'wtf-to-do' guide with every post focusing on how to use each of our vibes.
Ah, the Cumander - proof that two parts are better than one! Our cumander is a bullet vibrator paired with a remote which means that how you use the Grapevibe can also be implemented with the Cumander except with 30 buzz settings instead of just 10 (um YES!).
---
The Cumander can be controlled both from the bullet vibe + the remote. There is one button on the bullet vibe that you hold down for 4 seconds to turn on and just like the Grapevibe, you click through the 10 settings. Where the settings TRIPLE to 30 is when you throw the remote into the mix. The remote allows you to change the intensity of the buzz patterns - see helpful diagram below!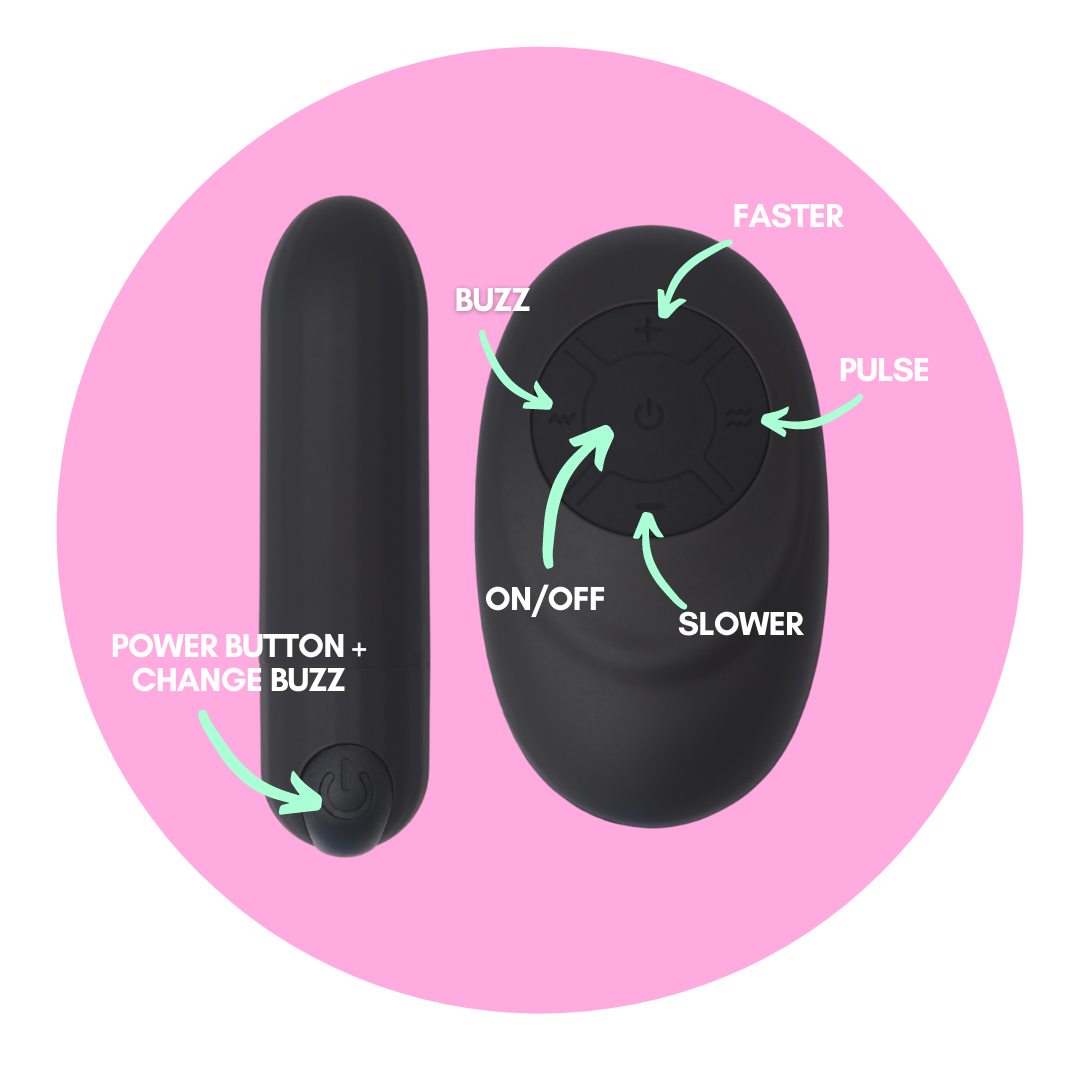 ---
Just like the grapevibe, the bullet vibe part of the cumander is typically placed either on your clitoral hood, directly on the clit or on your vulva lips. You can also be creative with where to place it - try out the cumander on other body parts like your nips, collarbone, neck or inner thighs to see what other sensations are going to make you feel oh so good. Just remember to not insert the cumander in ya hooha!!!!!!
Wherever you choose to place the vibe, you can also move it up + down, in circles, in a pulse motion or you can just keep it still - whatever is your jam!
---
---
How to cumand the good vibes
---
The cumander can be used in two main ways: with a partner or solo!
With the bullet vibe on your clit, your partner can control the intensity and settings with the remote or vice versa! Giving your partner control with the remote can turn the excitement in the bedroom aaaall the way up since they can surprise you with new sensations you didn't expect. Your partner's control with the remote can not only provide exciting suspense but means that you can explore different intensities all over your body together.
If you're using it solo, you can control the remote all by yourself because duh, you know your own pleasure better than anyone. Play around with the settings babe, you might surprise yourself with what you end up vibing.
Try her in the bath or shower - We LOVE baths here at Oh My so in this exciting exploration of your AMAZING self, try using your vibe in the bath or shower. The cumander is waterproof just so you can find self-love anywhere.
Lube is also your bestie - Many people with vulvas struggle to get wet which is why lube is oh so great. Our vibes are made from medical silicone so they work best with water or oil based lubes. Avoid silicone based lubes because over time, they will break our vibes down and that would be an utterly devastating.
Like you, she needs regular cleaning

- make sure to wash your vibe after each use so you can avoid uncomfortable infections down there. Just wash her with warm water + antibacterial soap before wiping dry with a clean cloth. Voila, she's good to go again!
And that's the Cumander folks! If you'd like more information or guidance on how to masturbate, please visit our Beginner's Guide to Masturbating. Happy vibing folks!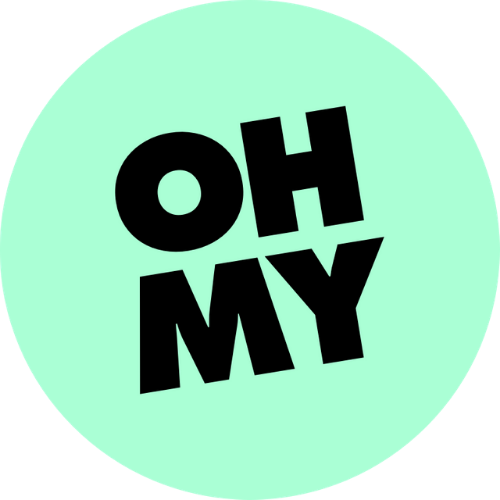 Oh My Vibes is a self-love brand out to change the convo around women's pleasure. They believe that life is too short to fake it so they've created some pretty amazing vibrators. Rumour is that you can find them here.
---
Enter your email and receive 10% off your first order.